A Place For Kids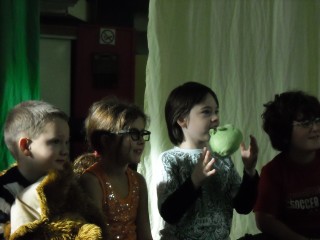 St. Columba is a place where children find a home to grow in their faith. We've moved away from a traditional model of Church School and created the Absolutely Awesome Adventure Centre where kids can use all their senses to learn about God and the amazing world that God has created for us
This program incorporates worship centres that draw from popular culture such as movies, television and books, to help illustrate the value of faith and forgiveness in our lives. Children also learn that working together they can make a positive difference in the world.
The Absolutely Awesome Adventure Centre
At St. Columba, we know that children and young people experience God's mysterious presence in their lives in different ways. Companions and mentors guide and help them relate their faith to life. We hope to accompany the kids on their faith journeys and help them to :
Become familiar with scripture and relate it to their daily lives;
Participate in the life of the church;
Deepen their personal connections to God; and
Use their unique skills and talents to respond compassionately to human need in the world. Check out our upcoming events and themes!
Adventure Centre Registration Form
Children and Worship
Each week at St. Columba we look forward to worshiping God with the kids in our awesome adventure center. We celebrate the wonderful diversity of our community gathered as one body.
At the Kids Awesome Adventure Center everyone is welcome. Kids who are nursery age have their own play room , and kids who are 4 – 12 years old meet together every Sunday and experience a rotation of centers where they learn and get first hand experience about issues of faith. Older kids have their active teens group and they hold different leadership responsibilities around the church.
At St. Columba we value innovation and creativity. We moved away from the old model of church school to a new method of learning which enhances the Kids multiple intelligences and meets their different needs. Every Sunday, kids gather in a colorful tent for worship and story time. Later, they move on to different centers such as drama, arts, science, movie, kitchen, and others that enable them to experience the biblical story from different angles. They also have lots of special activity Sundays where they prepare for celebrations around the church year such as Christmas and Easter.
Kids not only learn and grow in faith but also make friendships with new kids.
The Awesome Adventure Centre is currently in transition as we are seeking a new Kid's Animator, if you are interested in taking on this role, please contact us for more information.
Nursery Care
Our Nursery is open every Sunday morning, starting at 10h00. It is a clean, safe environment where children 4 years of age or younger can play and be cared for while parents join in worship. Parents and teens supervise the kids while they play in the Nursery room. The nursery room have age appropriate toys. Parents may accompany their kids in the room if they wish to.