Featured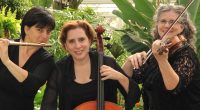 Saturday February 25, 2017  7:30 pm From Bach to Broadway Trio Ambiance Diane Caplette, flute Solange Bellemare, violin Iona Corber, cello […]
Our sanctuary received a much needed makeover. Take a peak at the renovations!
Community News
Wondering what's on the menu? Find out on our new Facebook page!

Saturday February 25, 2017  7:30 pm From Bach to Broadway Trio Ambiance Diane Caplette, flute Solange Bellemare, violin Iona Corber, cello […]

Vendredi Gras Madness!