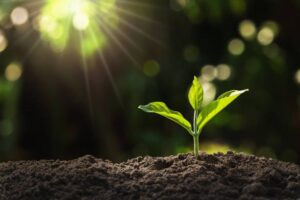 This Sunday, we reflect on Hidden Growth enabled by the Spirit (Romans 8:31-39; Mark 4:26-34). By the grace and never-ending love of our God, as people and as communities, we grow as we learn to serve God and love one another in new ways. Hidden growth takes time, and it can't be controlled. How do we let go, and draw near to the One who creates new growth within us and in our neighbours?
Please click here to access the worship outline, including words to all the hymns and readings. We give thanks to Michael McAuley for leading our hymns.
As we have moved out of the red zone, we are allowed to have more people in worship! The COVID task group has determined that our sanctuary can safely welcome 50 people distanced (downstairs and in balcony). There will be no worship sign-up needed from now on, but your name and phone number will be recorded in our COVID registry, and all mask and distancing rules will remain.
You will be able to watch the service by live stream beginning at approximately 9:55 am this Sunday by clicking on this link. If you would like to watch the service at a different time, this same link will bring you to the recorded service anytime after 11 am on Sunday.