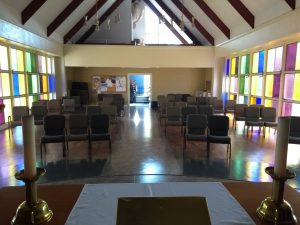 This week, St. Columba begins the journey of Lent, and reflects on the theme Cost and Blessing: Facing your fears (Psalm 25:1-10; Mark 8:31-35). Peter is surprised when he learns the end result of Jesus' journey. He pushes back, demanding that Jesus avoid his death. Jesus stands firm, because he can't back down from his healing, redemptive ministry.
When does standing up to the powers have a cost in our lives and in our society? How can we face our fears and have the courage to invest in the vulnerable?
Please click here to access the worship outline, including words to all the hymns and readings. We give thanks to Monique Caissie for leading our hymns this week.
This week, we are sharing in Communion, so please have a small piece of bread and a cup of wine or juice for each person participating.
Due to Covid health restrictions in Quebec, there will be no in-person worship at St. Columba until further notice.
You will be able to watch the service by live stream beginning at approximately 9:55 am this Sunday by clicking on this link. If you would like to watch the service at a different time, this same link will bring you to the recorded service anytime after 11 am on Sunday.