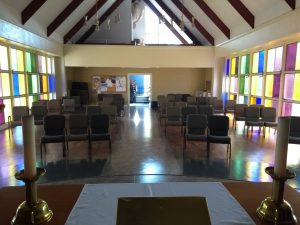 This week, we complete our Songs that Inspire! series with the theme of Journey, hearing different styles of music that have been meaningful to St. Columbans. We will learn about active listening to music, and reflect on mindfulness (Psalm 30:1-5, 11-12; John 12:1-8). In the gospel, Jesus was known for stopping and being present in the moment and to the people around him, resulting in love shared, and healing of himself and others. How can we do the same?
Please click here to access the worship outline, including words to all the hymns. We give thanks to Jennifer Kendall-Dupont, our worship leader this week, and to Charlotte Adams for leading our hymns.
Due to Covid health restrictions in Quebec, there will be no in-person worship at St. Columba until further notice.
You will be able to watch the service by live stream beginning at approximately 9:55 am this Sunday by clicking on this link. If you only see a static logo, please be patient, it should start soon.
If you would like to watch the service at a different time, this same link will bring you to the recorded service anytime after 11 am on Sunday.