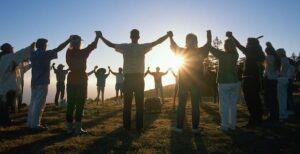 On Christian Family Sunday, we reflect on our journeys, and how God accompanies us on our path (Psalm 23; Acts 10:44-48). As we go through the valleys and we experience God's comfort, how do we always return to God's presence, and recognize the abundance God brings?
Please click here to access the worship outline, including words to all the hymns and readings. We give thanks to Wendy Davies, our worship leader, and to singer Monique Caissie for enriching our service this week.
You will be able to watch the service by live stream beginning at approximately 9:55 am this Sunday by clicking on this link.. If you would like to watch the service at a different time, this same link will bring you to the recorded service anytime after 11 am on Sunday.