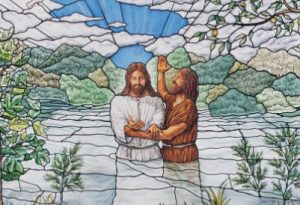 Click here to access the worship video for Sunday, January 10 (*please see note below about video quality).
This week, we reflect on the Baptism of Jesus (Mark 1:1-11, Genesis 1:1-8). We think of baptism as a calm, beautiful moment of family and community. The beginning of Mark's gospel reveals Jesus' baptism in the wilderness as a moment of abrupt change. It sets the scene for many changes as God breaks into the world and human relationships in new ways. How do we see the Spirit breaking into our lives? How do we continue to claim our identity as God's beloved and live that out in a time of change?
As we reflect on water and remember our baptism, you are invited to have a bowl of water nearby as you worship at home.
Please click here to access the worship outline, including words to all the hymns and the scripture readings. We give thanks to Charlotte Adams, our worship leader and Michael McAuley for leading our hymns.
*This week's video was produced Friday evening in a new way – it is the recorded replay from our first test of "live-streaming". There are three aspects to be aware of. First, the St Columba logo appears, without sound, for several minutes – so don't give up, just wait! Second, when the video images start (Michael playing) there is still no sound for a short while. Third, this video is not as sharp (resolution) as our other videos, and it is somewhat "jerky" or "choppy".  We will be working to overcome this issue in the future.
Copyright © 2020 St. Columba by-the-Lake Presbyterian Church, All rights reserved.
For friends of St. ColumbaOur mailing address is:
St. Columba by-the-Lake Presbyterian Church
11 Rodney Ave
Pointe-claire, Qc H9R 4L8
Canada
Want to change how you receive these emails?
You can update your preferences or unsubscribe from this list.