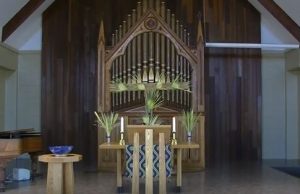 You are invited to tune in on Palm Sunday, at 10 am or at another time that is convenient, to worship with us virtually through YouTube by clicking on this link.
Here is an outline of the service, with words to hymns that Michael will be playing so you can sing along!
Alternatively, this week, we also have a PowerPoint for you to look at during worship. Feel free to have the slides open in another window or on another device to follow along with the video. If you don't have the PowerPoint program on your device, simply use this pdf file.
This week, you may also view a separate 'Children's Time' video by clicking on this link, as Lara speaks to children and youth, and reads the story, "The Tale of Three Trees."
Peace be with you as we continue on this strange journey
as a community, apart but still connected,
and know that God goes with you.