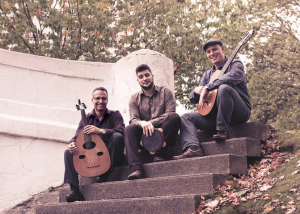 Samuel Bonnet, classical guitar; Khalil Moqadem, oud; Nathaniel Huard, percussion, riqq & bendir
On Saturday, October 26 at 7:30 pm, join Tessala on a voyage through time and discover great music from Arab, Jewish, Mediterranean & Québécois cultures and more!
Suggested donation $15, free for kids. A portion of the donations will go to Youth Unlimited – La Corde Pierrefonds, a breakfast, lunch and after-school program for elementary school students.