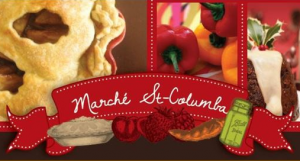 We are excited to announce that our annual festive community event is coming up:
Friday November 16, 2018 between 4:30 – 8:30 pm and
Saturday November 17, 2018 entre 9:30 am – 2:00 pm
at St. Columba by-the-Lake Presbyterian church,
11 Rodney Avenue, Pointe-Claire.
Friday's dinner will be served between 5:30 and 7:30 pm.
Saturday Café is open from 10:00 am to 1:00 pm.
Come and discover our variety of baked and frozen goods, the ever-popular meat pies, delicious loaves and sweet treats!
Take a moment to discover our handmade items at the Christmas décor, creative sewing and knitting tables.
The gift table will have a selection of unique gifts for that special someone.
Please join us and take in the Festive Feeling while you enjoy a meal or do some Christmas shopping in a warm and welcoming environment.