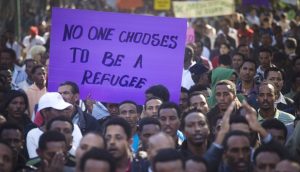 Pilot Project of Welcoming Refugee Claimants
Be a part of our pilot project and help us welcome vulnerable newcomers to their new home!
As you would have seen in the news, refugee claimants walk across the US/Canada border and are arrested by the RCMP. They are then transported to a location around the Montreal area (e.g. YMCA's Tupper site, Laval, and another location). Once there, social workers orient them, and they are given paperwork to obtain medical services, begin welfare and school access, if they have school-aged children. After a maximum of a month, these families strike out to find housing, and many are relocating to the West Island in search of affordable rent.
This is where the Welcome Collective comes into play:  they support the transition and integration to Quebec by connecting the most vulnerable families with caring communities like ours who want to help them settle in.
Our pilot project will operate as follows:
Step 1 will be to accept family referrals from the Welcome Collective, and we will work with up to two families per month.
Step 2 will be to provide some basic necessities to the family (basic furniture, some toys, essential cooking materials, etc). The focus will be to connect available items to families and help transport them to their home.
Step 3 will be to link the families to relevant services (e.g. food banks, hospitals, transportation) in the West Island.
Step 4 will be to move on to other families, once the previous ones are settled in.
At the end of the pilot period which will extend into September, an evaluation will be made with the goal of assessing scope, capacity, and efficacy of the process with an openness to evaluation and improvement.
Please consult the updated list of items needed and send us an e-mail at refugees@stcolumba.ca if you can help!