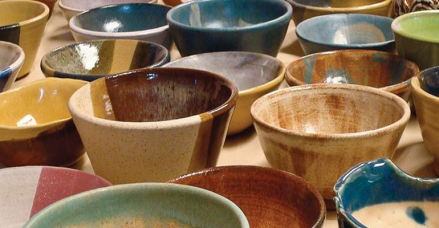 St. Columba is partnering with Corbeille de Pain to help fight hunger in our community. On Saturday, April 13, you are invited to join us for lunch from 10:30 am to 3:30 pm. You will have the opportunity to choose a hand crafted bowl, fill it with the home made soup of your choice, and enjoy a great meal. At the end, you get to take the bowl home with you!
Corbeille de Pain seeks to empower vulnerable citizens in the West Island to feed themselves by organizing community kitchens, nutrition seminars, community gardens and Good Food Boxes.
How It Works
Potters donate their handcrafted bowls.
You choose a bowl.
Together you share a simple meal of bread and soup.
100% of the proceeds goes to Corbeille de Pain to help fight hunger.
You take the bowl home
Cost
Tickets are $25 for a hand-made ceramic bowl and a meal; Children, $5 (under 12, meal only); Tickets are available at the door or on Facebook.